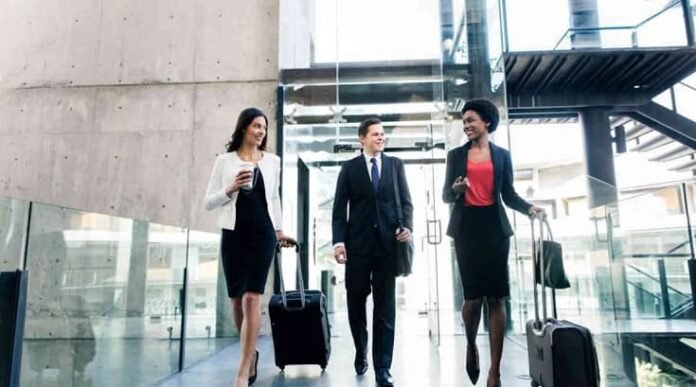 Business trips are generally characterized by busy schedules, meetings, presentations, projects, etc.
With that being said, it's also true that there's still a place for relaxation and enjoyment during such trips.
For example, the concept of the 'bleisure work trip' is becoming more and more mainstream as more and more people travel for work.
If you're a remote worker and you need to travel to conduct business, then you may be thinking about doubling down on those work trips to make them more pleasurable and enjoyable at the same time.
This is a great idea.
If you're going to be traveling anyway, why not make the most of it by planning some relaxation in and around all of that business?
Sounds great—right?
Well, in this post, we're going to explore 5 relaxing things to do during a business trip.
These tips will help you to turn your next business trip into a halfway vacation that'll also give you a chance to enjoy your business travels and take in some of that amazing scenery.
Let's dive into it.
1. Take In The Scenery
Even if you're traveling for business, there's usually still going to be at least a little bit of time available to enjoy some of the local sights, sounds, and spectacles.
Maybe you could visit some interesting landmarks, or just give yourself an afternoon to explore the local historic downtown district.
Every location is different.
So make sure to take this opportunity to just be in a new place and enjoy everything there is to enjoy about it.
2. Get A Massage
Nothing says 'relaxation' like getting a high-quality massage.
The great thing about getting a massage is that you can do it almost anywhere.
Plus, when you go to higher-end business hotels, they may even offer such amenities on site.
There are few better ways to relax during a business trip than to get a nice massage and just enjoy a little bit of downtime between busy meetings and projects.
3. Visit A Local Restaurant/Bar
One of the great things about traveling to new places is experiencing the local nightlife.
Consider grabbing some local cuisine, or partaking in the local bar or nightclub scene.
Obviously, if you're not into drinking, then you may opt for the restaurant more so than the bar.
However, in a lot of travel locations, you can usually find great bar-restaurant combos that can offer not only fantastic food, but also the option for a little nightcap to really end off the night on a relaxing note.
This can be a great way to relax after a hard day's work on the road.
And hey—usually, per diem and M&IE cover your meals!
Hotel Engine describes it like this:
"The "M" in M&IE refers to meals. The "IE" refers to incidental expenses. Most businesses combine these into an M&IE per diem rate — a total rate designed to keep travel expenses low during business trips. When we talk about meal per diem rates, we're referring to any meal eaten during the course of a business trip. That includes all breakfasts, lunches, and dinners."
4. Go Sight-Seeing
Sometimes, taking a small trip away from your work destination can yield fantastic scenery, amazing experiences, and one-of-a-kind adventures that you just wouldn't find within the city.
This could mean visiting a lake, going hiking on a trail, visiting a park, or just going to some other location a short drive out from your work destination location.
Going sightseeing is one of the best ways to truly experience a new place.
This is a fantastic way to relax and unwind on a day off while traveling for work.
5. Chill Out By The Water
For the most part, whenever you travel, you'll find that there are some type of shoreline location options where you can just enjoy sitting by the water and relaxing.
This could mean sitting on the beach, setting up a chair along the river, or even visiting an especially luxurious swimming pool.
Relaxing by the water can allow you to unwind during stressful work trips while also giving you the option to maybe swim or otherwise engage in water-based activities.
This is always fun.
Conclusion
Hopefully, this post has given you some great ideas for how to relax during that next business trip.
Just remember that work trips don't have to be all work.
You can combine them with fun, pleasurable activities to really give you the maximum benefit of adventure while you're getting paid to perform your job and accomplish projects.
Now, it's time to get out there and have your adventure.
You can do it, and you deserve it.
So get out there and make it happen!