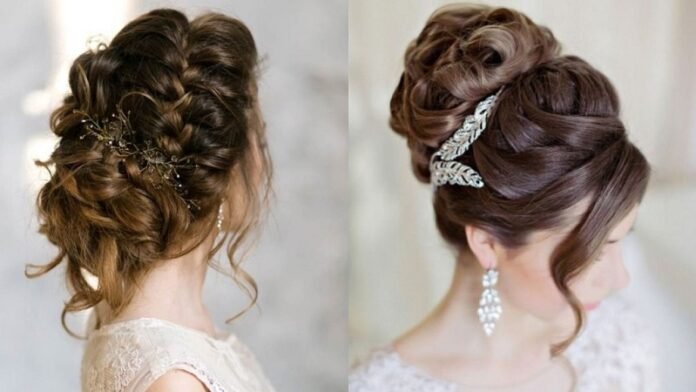 Congratulations, you're getting married!
Now it's time to begin planning everything from where the wedding will take place, to the hairdo you'll have for the wedding. There are tons of wedding hairstyles that you can choose from, but we understand you want to choose one that will truly make you feel like a bride.
Below we've created a list of some updo hairstyles for weddings and wedding hairstyles for long hair. There's something on our list for everyone.
1. Classic Beauty
What could be better than going with a look that only gets better with time? The best advantage of doing a chignon bun is that you can place the bun high or low on your head to fit your personal needs.
Another reason we've included the chignon on this list is because of the way you can change it. You can add braids and twist to play up its feminine charm.
2. Add Floral Pieces
Floral accents in your hair are truly a sweet and romantic touch to any hairstyle. But, if you want to take things a step forward, you can always have your hairstylist create a floral crown to wear on your big day.
When choosing the flowers you want in your hair, think about your wedding colors and what flowers will accentuate, but not overwhelm your hairstyle.
3. Curls, Curls, Curls
The best bridal hair look is one that makes you feel more beautiful than you've ever felt in your life. What better hairstyle than curls, no matter how they're styled.
Once you've gotten your hair curled, the options you have regarding how they're styled are limitless. Make sure during your hair consultation you work with your stylist and test several styles.
It's also useful if you bring your veil to see how it fits with the hairstyle. This way, adjustments can be made ahead of your wedding day.
4. Ponytail
If you want your dress to be the center of attention or don't enjoy your hair being on your neck, the ponytail is the hairstyle for you. It's one of the best wedding hairstyles for women that have long hair.
Related News:-
Modern And Easy Henna Designs For 2021
You can even find unique ways to incorporate braids and different barrettes in your hair to increase the elegance of your ponytail. Another benefit of having a ponytail is you don't have to worry about fussing with your hair throughout your wedding celebration.
It will be out of the way, allowing you to get jiggy on the dance floor.
Wedding Hairstyles 101
There are tons of wedding hairstyles that you might choose for your wedding day. We've given some options that we know you'll love, including adding some floral pieces to your hair or keeping it classic and going with a chignon bun.
No matter what hairstyle you go with on your wedding day, ensure it makes you feel special. Don't worry if the hairstyle you want is difficult to achieve with your hair texture or length. There are natural hair extensions and wigs that you can use to achieve your dream wedding look. You can ask your professional hairdresser to add them to your hair days before the big wedding, so you can get acclimated to their feel and make adjustments as necessary. And because they are all-natural, they will not look or feel any different from your own locks.