For the past 5 years, the interest in a new niche called feet pics and selling over different platforms has been overly saturated.
In the United States and all over the world, the interest rate is increasing day by day. There are many people who want to enter this field and want to make some money. They are searching for platforms or third-party sites where they can find potential clients.
It sounds like an easy and innocent way to make money. Sorry to say, you are looking at a saturated market with something people can get for free.
What makes your feet pics better than others? If you are able to answer that personally then you are welcome to enter "how to sell feet pics".
For Example, if I just type Feet pics into Google or other search engines, I would be able to find millions of results related to my interest. The Best thing is that all of those Feet pics are free and I don't have to pay anything.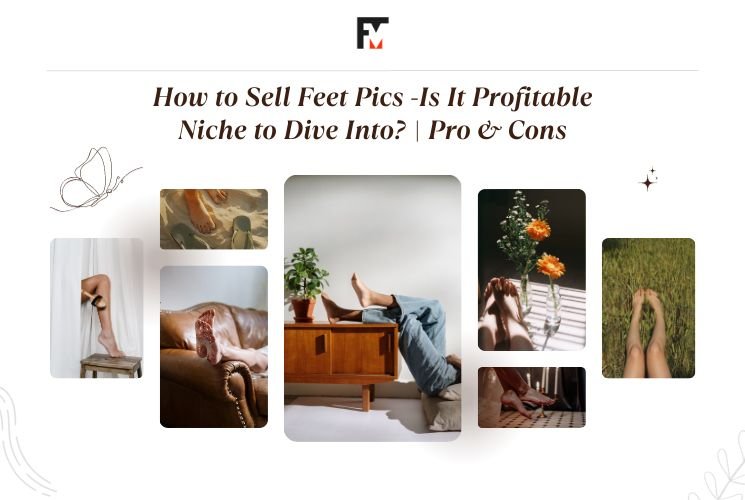 The selling Feet pics market is overly saturated and you need to have a wide range of marketing to get potential clients. We can see the saturation for the past 5 years by analyzing the Google Trends Data.
We are not here to promote any website or any material. The purpose of this article is only to present our opinions deep down in the field of "how to sell feet pics".
Although someone or many might be earning from this, there are many factors that contribute to her success.
There might be a good audience for her
There is a possibility that she already has good marketing
It is possible that she has great innovations
It is possible that she has a high standard of production, lighting, editing, and equipment.
Again, if you are able to answer what makes your feet pics better than others, then you are good to enter in niche. Use different tips and platforms to promote your stocks and get potential clients. We will discuss those later.
Tip: Don't involve yourself in the saturated market or non-lucrative niche, which demands a lot of effort and causes nothing else than depression, disaster, and financial loss.
How to Sell Feet Pics
FeetFinder, FunWithFeet, JustFeet, Feetpics, Etsy, Instagram, kik, OnlyFans, Twitter, Reddit and etc. are some popular Feet pics selling websites and platforms, where you can sell your feet pics and get paid.
All platforms have their own rules are regulations. I do not recommend any of them, Try all at your own risk. I am just going to discuss some case studies, reviews, and tips.
Websites like FeetFinder, FunWithFeet, JustFeet, Feetpics and etc, will charge you some money. Then they will allow you to set a price and sell feet pics amongst other odd stuff.
I knew a girl who did some of the other odd stuff and made decent money. But it is not something you should actually plan for like a regular check. Maybe a few bucks every blue moon.
Where to Sell Feet Pics for Free
The best places where you are able to sell feet pics for free are social media platforms like Reddit, Instagram, Twitter, and OnlyFans. Invest your advertising time and efforts, if you have high quality pics and you think you are better than others in an over-saturated market.
One Review and Case Study I found, this might help you out and give confidence to the right person:
"I sell my feet through Instagram, Twitter, and on Reddit. I sell custom pictures, videos, video calls, and even my socks for a decent amount! I make good money doing this so I believe it's definitely possible for you. Instagram is my biggest source of income and where I get most of my customers, you have to be careful though because Instagram changed their policies and keeps deleting my account."
How to Sell Feet Pics on Instagram
To be honest the feet pics for sale Instagram is so saturated that you won't see any money without a lot of time and effort. All you need to try to find a niche market. The grocer, for example, pays you better.
The market is really saturated, you'll have to stand out somehow.
Try to get as much creative as you can
Open up niche relevant pages like, used socks and shoe pages and market together with pictures.
Invest money in a good Camera or lighting.
Use different poses and angels to stand out in your picture.
Advertise your picture on a daily basis on your Instagram page and share or tag relevant pages.
Be Creative and market yourself well! Good luck
Alert: Instagram and Twitter are likely to shut down those pages According to their new Content Policies. So, be careful
Tip: Some niches that you can target on "Toes", "Arches", "Socks", "Nylons", and "flip flops". It's better if you find a niche but it's not necessary.
How to Sell Feet Pics Reddit
Entering the saturated market and standing out from the saturated market would require either extreme innovation or high-quality equipment. Selling feet pics Reddit required the same.
Join Reddit
Start Following some relevant feet pages.
Market yourself and your content with different posts.
You need your Reddit following first being extreme or entertaining would be your best bet in order to get potential clients through Reddit or any other social accounts for selling Feet pics.
How to Sell Feet Pics on Onlyfans:
Feet Pics is a saturated market at this point and it is something like depression and disaster for non-popular people on social media. There are only a few OnlyFans accounts who able to make 99$ of the platform's income.
However, if you are creative and have Good Feet images, then the easy way to sell on Onlyfans is to just push more Feet images content. Advertise them and talk more about feet pics on other social media.
Talk more about Feet pics on other social media like Reddit, Twitter or Instagram
Push and publish consistent Feet content/images on OnlyFans.
Drive People to your OnlyFans through other Social Channels.
You are not going to make tons of money doing this but can try if you really want to enter this niche. If you are not popular and do not have a large number of followers on your social account, you can use some third-party paid sites like those mentioned above, which charge some % after you earn some money at your own risk.
How to Sell Feet Pics Without Getting Scammed:
The best and most authentic platforms to sell your Feet pics and get seen in almost every country in the world are iStock, GettyImages, and Unsplash. Follow the steps – Upload and earn with your feet pics.
Create your feet Photos or illustrations that customers need the most.
Upload your original content on iStock and gain access to one of the largest global distribution networks.
If they love what they need, they will buy a license to use your content or feet pics and you will get paid.

Review and Case Study:
On reddit i randomly engage with someone, she was earning with feet pics niche. Just sharing her talk for #motivation for really creative and highly productive feet pics creators.
"I did feet once but it happened in an odd way. I met someone randomly and he just so happened to mentioned he loved pretty feet. I said I have always been told I had pretty feet. He says u know u could get paid for it. Never heard of such I laugh and he goes I will pay u. I took a pic being funny and he asked for my address. I didn't know this man so I have him a PO box. He sends me cash in the mail. This went on for about a year. Then I got really sick and ended up in the hospital on and off for a long time and we lost contact."