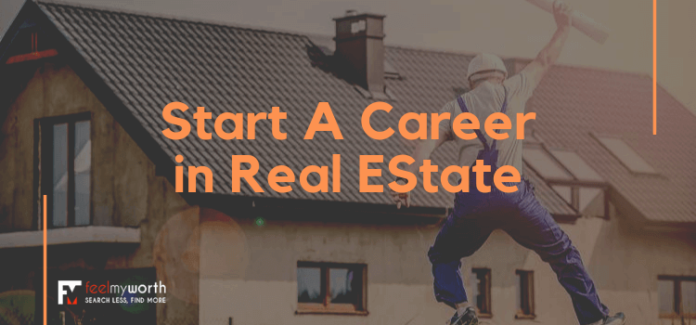 Real estate is an ever-growing industry. Sure, there are a few setbacks when the economy struggles. But that is true with most industries, not just real estate careers. Except maybe for things like smart home devices. Which are indifferent to economic ups and downs.
A career in real estate is something you need to be passionate about. Unlike other jobs, one in real estate has no 'offs'. You're always on the move, making connections and finding opportunities. Because everyone wants to, at some point, buy a home or property for investments.
But that said, real estate has many different career opportunities for you. It's not just about selling real estate. Although sales is the most common career, you can select another.
7 Reasons You Should Choose a Career in Real Estate
The real estate job market is expected to rise 6 percent until 2026. In fact, the Bureau of Labor Statistics foresees that employment in the industry will rise by almost 25,000. And this is just by 2026. That means there are tremendous growth opportunities for you. And this is the right time to join.
1. Real Estate is a Rewarding Career
There aren't many career opportunities that are as rewarding as real estate. How many times does the average person expect to buy a house in their lifetimes? As real estate agents and brokers, you are able to help people get their dream homes.
You can help someone get their retirement house set up. Or you can help a new couple buy their first home. Buying a home is a big personal achievement for most and you are a big part of it.
2. High Incentives
It's no secret. There are some really high incentives for real estate professionals. The commission on a single sale can be more than the average yearly salary. That is one of the key attractions for people looking to get into the industry.
⭕Also Read:-
How to Increase Employee Productivity At Work? – 9 Ground Rules
But making a career shift simply because of the incentives is a risky decision. Real estate might seem like an easy career path, but it is one of the most demanding jobs.
3. Tremendous Networking Opportunities
To have a successful career in real estate it is important to have people skills. That could be the deciding factor between a successful career and one that is lacking. Being in real estate you will often be presented with networking opportunities.
You need to be able to make the most of these opportunities. And in most cases, you will need to be talented enough to create these opportunities for yourself.
4. Flexibility of Work
Another reason why people prefer a career in real estate is freedom. Most people don't or can't work in an office position. They aren't comfortable with the strict office hours or being confined to the office space for the day.
Real estate careers offer flexible working hours and the ability to work from outside the office. Since most of the job is displaying the properties, you can usually make your own timings.
5. Career Stability
It might not seem like it, but real estate offers stability. Sure, when there is a major economic crisis, real estate suffers. But industry-wide layoffs, even in a crisis aren't common. There can be a recession going on but people still need a place to live.
The secret is that real estate is not just buying and selling of property. It also includes rentals. And that is what stabilizes the industry. The fact is that everyone will need a place to live in. If the economy is in a slump, people are likelier to rent instead of purchase.
6. Growth Opportunities
Usually, with an office job, the growth opportunities are significantly slower. Sure, you will grow, but the pace will be slower. Real estate does not follow the same rules. If you have grown your portfolio to a certain level, you can enjoy fast-paced growth.
7. Encourage Activity
Real estate market encourages you to be actively involved. You are unlikely to sell a property without making it sellable. Generally, real estate professionals are also very quick at arranging events. That is because they are likely to host one a couple of times a week.
➦ How to become a real estate agent?
The real estate industry is very big. It includes so many different fields that you can specialize in. This is why it is important for someone to be passionate about real estate agent career. Because no matter the field you choose, a career in real estate is a demanding one. Like these:
Real Estate Managing Broker
A managing broker is not the same as a real estate agent. A broker is certified to manage a real estate office. It is the next level of real estate careers advancement if you are a broker. Of course, you don't need to be a broker to qualify, but it definitely helps.
You can opt for a career in either residential or commercial appraising. A residential appraiser assesses the worth of a property before it is listed on the market. Whereas a commercial appraiser does the same for commercial properties.
A property manager is responsible for making sure the property is in good shape. They are also tasked with making sure the owner if making a profit.
Leasing consultants are tasked with renting out properties. They are essential agents for rental properties. They will find, convert, and process new tenants for all their listed properties.
A foreclosure specialist processes all the documentation required for property foreclosure. They have to get the property documentation ready to be re-listed and sold.
Conclusion
To sell real estate you need to be able to use everything in your arsenal. Most marketing professionals today would advise you to do everything online. From SEO to social media management and even online advertising. But real estate agents realize that things like technology modify behavior take you so far. Real estate professionals have learned that relying on interpersonal skills is more important. Above all else, making connections is how you succeed in the real estate industry.
FAQs
Why do people choose real estate career?
The main reason why people research real estate is that they are intrigued by this. They experience the excitement of tourist properties and imagine how they can transform space and create life. They can easily suggest how to increase the value of properties through well-chosen upgrades.