The outdoor space of a home is like a canvas waiting for a creative touch. While some projects can require professional assistance, many can be tackled by the enthusiastic homeowner with a little time, the right tools, and a dash of determination. Here, this article presents five DIY outdoor projects to beautify and enhance your space.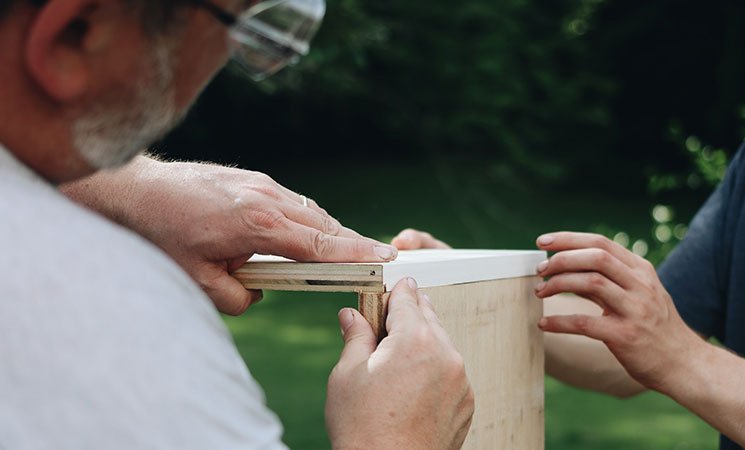 1. Raised Garden Beds
Due to the fact that they are advantageous in both a practical and an aesthetic sense, raised garden beds have quickly become a popular option among many gardening lovers. These beds improve drainage and reduce soil compaction by raising the soil, which ultimately leads to the development of plants that are in better health. In addition to this, they provide a distinct boundary between the grass and the garden, which makes it much simpler to do maintenance and pull weeds. Gardeners are able to change the size and form of their planters to meet their available area as well as their specific requirements, thanks to the adaptability of the design. Most significantly, building your own raised bed is a simple do-it-yourself job that calls for a limited amount of equipment and supplies. This makes it an excellent choice for gardeners at any level of experience, from novice to expert.
2. Stone Pathways
Stone pathways can effortlessly elevate the look of any garden or backyard, adding a rustic yet refined touch. These paths not only provide a functional walking space but also serve as a decorative element, guiding visitors through different sections of the outdoor area. Creating a stone pathway is a relatively simple DIY project; all you need are stones of your choice, some sand for bedding, and a bit of creativity in layout. One can opt for a straight, geometric design or a meandering path to add a whimsical feel. With minimal investment and some weekend effort, homeowners can achieve a beautiful and durable pathway that stands the test of time.
3. Kitchen Kits
One of the most transformative projects for any backyard space is the introduction of a cooking area. Today, the rise of affordable outdoor kitchen kits has made this once-daunting project accessible to the avid DIY enthusiast. These kits come with all the essential components and a clear set of instructions, eliminating the guesswork and reducing the potential for costly mistakes. Not only do they add functionality to your outdoor space, but they also elevate the aesthetic appeal, making your backyard the ideal spot for summer gatherings. So, if you're looking to enhance your outdoor living experience, consider the convenience and efficiency of using a kitchen kit.
4. Outdoor Fire Pit
Backyards and patios are made cozier and more comfortable with the addition of a fire pit, which acts as a focus point for evening gatherings and provides warmth. Building a fire pit is a simple do-it-yourself project that involves just a few basic materials like bricks, stones, or concrete blocks. To begin, choose a site that is out of the way of any buildings or trees that hang over the ground. After determining the appropriate dimensions and contours, the next step is to excavate a small pit and fill it with sand or gravel. After that, arrange the items you've selected in a circular or square pattern, ensuring that they are stable, and before you know it, you'll have a fire pit that's perfect for toasting marshmallows and telling stories long into the night.
5. Water Features
Water features can significantly elevate the aesthetic and tranquility of an outdoor space, and many are surprisingly easy to DIY. From simple bubbling fountains to serene garden ponds, these features can be created using kits or upcycled materials. Start by deciding on the size and style, ensuring it complements the overall landscape. Use a combination of water-resistant materials, pumps, and tubing to get the desired flow. Once set up, water features not only enhance visual appeal but also attract birds and beneficial insects, promoting a vibrant garden ecosystem.
Conclusion
Your outdoor space should be a reflection of your creativity and the functionality you desire. While some projects are complex and can require professional hands, the above-listed ventures are manageable with some research and dedication. By embarking on these DIY tasks, not only will you save on costs, but you'll also achieve the priceless satisfaction of creating something beautiful with your own two hands. So, roll up your sleeves and give your outdoor space the makeover it deserves.